Snowboy
Portrayed by
Kyle Holman
Role
Camper
Hometown
Chicago, IL
Status
Deceased
Cause of death
Burned to death by Angela Baker
Gender
Male
Age
16 (at death)
Height
6'4"
Weight
183 lbs
Born
1973
Died
July 14, 1989
Angela Baker's motive for killing him
Irritating her
Appearance(s)
Sleepaway Camp III (1989)
Snowboy was a leather motorcycle jacket wearing juvenile delinquent who irritated Angela Baker at Camp New Horizons so much that she murdered him. He is Angela Baker's 35th victim.
Background
Edit
A juvenile delinquent from Chicago, Snowboy was a fun-loving teenager who enjoyed spray-painting graffitti on anything. He participated in Herman and Lilly Miranda's Camp New Horizons, an experiment in multi-culturalism in New York.
Sleepaway Camp III: Teenage Wasteland (1989)Edit
He serves as a supporting antagonist of the film.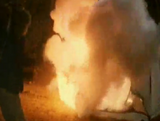 Snowboy arrived at Camp New Horizons on a bus with his fellow campers and participated in
Tawny Richards'
news segment. He listened to Lilly's orientation speech and then changed into camp clothes with the other guys. After registration was taken care of, Snowboy was placed in Herman's group with Angela,
Jan Hernandez
, and
Peter Doyle
.
The group set their camp up, and then Snowboy went fishing with Angela and Peter. Angela showed him how to fish, but the boys irritated her so she returned to camp. Snowboy and Peter came back with their fish, and he spray-painted Angela's tent. She told them to go to bed early, and Snowboy awoke as she blew Peter's head up. Angela knocked Snowboy out with a log and then burned him to death. Angela puts his husk in a cabin.
Character
Edit
Snowboy is an affable delinquent obsessed with spray-painting and having fun. He demonstrhates his individualism by cutting off the bottom of his camp shirt to match his regular wear.
height 6"4'
weight 183 pounds
age 16
Race - white
Shoe size - 14
Behind the Scenes
Edit
The script describes him as "a thin 16 year old mixed race male wearing torn blue jeans, a Greatful Dead t-shirt, and a "Foreign Legion" hat. He also sports a tattoo of a skull on his bicep."
Named after Snowboy from West Side Story.