Sleepaway Camp is a 1983 cult classic slasher horror movie from the mind of Robert Hiltzik, who served as writer, director, and executive producer. At first glance the film is about teen campers getting killed at a summer camp but the story delves into mystery, humor and psychological genres. It came about at a time when horror films were in their heyday. The films popularity eventually led 5 other movies to be released with a total of 6 currently.
Summary
[
]
After a horrible boating accident kills her family, a shy and sullen girl named Angela moves in with her eccentric Aunt Martha and her protective cousin Ricky. Years later, Martha sends the kids to Camp Arawak which got renamed Camp Manabe. Soon after their arrival, a series of bizarre and increasingly violent accidents start claiming the lives of various campers and staff. Who is the twisted individual behind these murders? The shocking finale has solidified the film as a true American cinema horror classic.
Full Synopsis
[
]
In the summer of 1975, divorcee John Baker sails on a lake with his twin children Angela and Peter near a summer camp in upstate New York. John's lover, Lenny, calls to the Bakers after their sailboat flips over. As the family tries to right the boat, a pair of teenagers, Craig and Maryanne, pull a water skier, Dolores, in a motorboat. Craig and Maryanne switch places so she can drive the boat, and they fail to notice the family up ahead. The motorboat runs them over, killing both John and Angela, as evidence from the torn and bloodied life vest that surfaced just after John's dead body drifts away. The surviving Peter as Angela is sent to live with her eccentric Aunt Martha and cousin Ricky. 8 years later in 1983 after the boating incident 14-year-old Angela and 15-year-old Ricky are sent to Camp Arawak by Martha, who reminds them not to tell anyone how they got the signatures for their physical exams. The buses arrive at the camp, and Artie, the creepy camp cook, practically drools over the underage campers while his assistant, Ben, laughs. Ricky introduces Angela to his best friend, Paul and he shows Angela around the camp since he has spent the last few summers there. Angela doesn't respond to Paul and remains silent as Ricky finished the tour and shows her to her bunk. Ricky tries to talk to Judy, his former girlfriend from last summer but she hardly acknowledges him, instead interested in the older boys, including Mike and Billy. Angela is ridiculed and bullied due to her introverted nature and shyness, mainly by Judy and camp counselor Meg. Only Meg's friend and fellow counselor, Susie, shows her any kindness. Meg asks head counselor Ronnie Angelo to help her deal with Angela three days later at breakfast, since she hasn't eaten anything. Ronnie takes Angela into the kitchen to see if there is anything in there she likes. Left with the greasy head cook Artie, Angela is taken into a back room, where he intends to molest her. Before any harm can come to Angela, Ricky storms in while Artie unfastens his pants. Artie threatens them not to say anything and the two flee from the kitchen. After the incident in the pantry, Artie is seriously injured when he is knocked off a chair by an unseen figure while tending to a large pot of boiling water which spills on his face and hands. Artie's injuries are deemed accidental by camp owner Mel Kostic, who pays off Ben and the rest of his kitchen staff to keep the event quiet and tell anyone who asks that Artie left for another job. Some time later, Ricky and Paul pull a prank on geek Mozart and are rounded up their counselor, Gene, to play baseball with the older boys, including Kenny, Mike and Billy. Ricky's cabin wins the heated game, leaving the older boys fuming. That night at a dance in the recreation cabin, Angela is accosted by Kenny and Mike. They mock her for being weird and silent, prompting Ricky and Paul to fight with the boys. Gene breaks up the brawl and sends Ricky and the rest of the boys involved in the fight back to their cabins. Paul stays behind and befriends Angela by telling her about misadventures he and Ricky got into previous years, prompting Angela to show a look of genuine interest and eventually smile. Angela doesn't respond however until Paul starts to leave, when she speaks for the first time, telling him "good night." The older boys and girls meet up at the lake after the social. Kenny convinces Leslie to row with him, and he overturns the boat. Leslie furiously swims away as Kenny, underneath the overturned boat, is attacked and pushed underwater by someone. In the morning, Hal the lifeguard finds Kenny's decomposing body. Mel deems this an accident, despite suspicion from Ronnie and police officer Frank Breton. Later that day, Paul talks with Angela while she sits out of a volleyball game, much to the irritation of Judy. Meg tells Angela that she either must participate or do nothing, which includes talking with boys. That evening, Paul and Angela go to the rec. room to watch a movie. Afterwards, they leave hand in hand as a sign of their growing attraction. Paul attempts to kiss Angela when they're alone, but she reacts badly and walks back to her cabin. The next day at the lake, Paul sits beside Angela but leaves when Meg arrives. Meg asks Angela if she is going to swim but Angela doesn't respond. Meg angrily shakes the silent girl until Ronnie pulls her away and tells her to leave Angela alone. In the girls' cabin, Judy approaches Angela and is angry thinking that she got Meg in trouble. Then Judy begins mocking Angela again and asks her why she will not shower or go swimming or change clothes with the other girls. Angela refuses to answer Judy, who grows so out of control that Susie slaps her. Angela leaves the stunned girls to visit Ricky. On her way, she is hit with a water balloon by Billy and his friends from the roof of their cabin. Ricky screams at the boys and threatens them. Mel reprimands the boys on the roof and grounds Ricky for his foul mouth. Some time later, while his friends go off to play baseball, Billy stays behind in the cabin and goes into the restroom. Someone locks him in the toilet stall, then cuts the screen behind Billy and shakes a hive full of bees into the room. Billy breaks out of the stall but is stung to death, with insects swarming his face. Mel learns about Billy's death and confers with Ronnie, who informs him that most of the parents have yanked their kids out of camp. Mel thinks his business is ruined and grows paranoid, suspecting that Ricky is the killer due to his threat and that the kids killed have bullied him. That night Paul tries to make out with Angela on the beach, which triggers a flashback to her youth when she and her twin witnessed their father in bed with Lenny. Confused and angered by Angela's rejection of his advances, Paul is easily seduced by Judy, who lures him away from a game of capture the flag the next day. The two are found kissing by Angela and Ricky. Guilty about what happened between him and Judy, Paul attempts to explain himself to Angela while on the beach but this time she does not want to talk to him. As Paul tries talking to Angela, he is shooed away by Judy and Meg. The pair mock Angela and throw Angela into the water. Ricky, who has been detained by Mel, rushes to Angela's side as Hal the lifeguard pulls her out of the water. On the way back to the beach, several of the youngest children laugh and throw sand at Angela, adding insult to injury. The night Ronnie gives the counselors their duties for the evening. He sends Eddie out with the youngest campers for an overnight camping trip, and gives Meg the night off. Meg takes the opportunity to set up a date with Mel. There's a line for the shower in her cabin, so she goes to one of the empty ones to prepare. There, she is stabbed in the back in the shower. Meg's disappearance goes largely unnoticed and camp activities go on as usual with a social in the rec. hall and Eddie taking the kids out into the woods. Outside the rec. hall, Paul approaches Angela and again tries to apologize for kissing Judy. Angela tells Paul to meet her later at the waterfront after the social. Two of the young campers complain so much that Eddie takes them back, leaving four others sleeping. When Eddie comes back, he finds that they've been hatcheted to death. Meanwhile, Mike and Judy make out in her cabin while everyone else is as the social. Mel stops in looking for Meg and Judy directs him to the empty cabin. After Mel leaves, Mike decides that he'd better leave so he won't get caught. Mel finds Meg's dead body in the shower stall and thinks that Ricky killed her to get back at her. The killer enters Judy's cabin and punches her out. The murderer shoves a pillow over her face and forces a curling iron inside her vagina, burning her while suffocating her to death. Ricky, who missed the social because of a stomachache, is attacked in the woods by Mel and is beaten savagely. After beating Ricky seemingly to death, Mel stumbles into the camp archery range, where he is shocked to discover the real killer (face not seen) and is shot in the throat with an arrow. The camp is thrown into a panic when Eddie calls Ronnie and informs him of the four murdered children. Ronnie calls the police and then tells Marie to gather the other counselors. As the counselors and the police scour the camp, Angela meets Paul on the beach, where she tells him to undress, which Paul enthusiastically agrees to do. Marie finds Judy's body while officer Frank and Gene find Ricky, who is still barely alive. Gene carries the badly beaten Ricky away to await an ambulance as Frank radios for backup. Ronnie and Susie search for the few teenagers who aren't accounted for. They find Angela nude on the beach, softly singing to herself and clutching a large knife and Paul's severed head in her hands. Angela is revealed to be both the killer and a boy: the thought-to-be-dead Peter. Through flashbacks it is shown that after Martha gained custody of him and she decided to raise Peter as a girl, already having a son and coming to the conclusion that another boy "simply would not do." The film ends with the nude, blood-covered "Angela" stands up in front of a shocked Susie and Ronnie who discover that "Angela" is a killer and lets out an animalistic hissing sound.
Cast
[
]
Felissa Rose as Angela Baker / Peter Baker
Jonathan Tiersten as Ricky Thomas

Karen Fields as Judy
Christopher Collet as Paul
Mike Kellin as Mel Kostic
Katherine Kamhi as Meg
Paul DeAngelo as Ronnie Angelo
Tom Van Dell as Mike
Loris Sallahain as Billy
John E. Dunn as Kenny
Willy Kuskin as Mozart
Desiree Gould as Aunt Martha Thomas
Owen Hughes as Artie
Robert Earl Jones as Ben
Susan Glaze as Susie
Frank Trent Saladino as Gene
Rick Edrich as Jeff
Fred Greene as Eddie
Allen Breton as Frank the Cop
John Churchill as Doctor
Michael C. Mahon as Hal
Dan Tursi as John Baker
James Paradise as Lenny
Paul Poland as Craig
Alyson Mord as Mary Ann
Carol Robinson as Dolores
Bram Hand as Scott
Brad Frankel as Joey
Dee Dee Friedman as Marie
Julie Delisio as Betsy
Michael Lerman as Greg
Lisa Buckler as Leslie
Colette Lee Corcoran as Young Angela
Frank Sorrentino as Young Peter

Mystery
[
]
Besides a horror film, Sleepaway Camp presents itself as a mystery film, with red herrings and a bit of Agatha Christie inspired whodunit? As the film progresses, it becomes clearer that the killer is probably Ricky, Angela, or Paul, with the audience left guessing who is guilty.
Theories
[
]
Some fans have speculated that Angela did not work alone, and that Ricky was the second killer. They cite timeline issues and the fact that Jonathan Tiersten (who played Ricky) was used to film the murder scenes since Felissa Rose (Angela) was too young.
Sequels
[
]
Over the years, the Sleepaway Camp films gained a loyal cult following. In the late 1980s, Michael A. Simpson directed two sequels, Sleepaway Camp II: Unhappy Campers (1988) and Sleepaway Camp III: Teenage Wasteland (1989). In them, Angela (now played by Bruce Springsteen's younger sister, Pamela Springsteen) resurfaces at a nearby summer camp, but this time masquerading as a counselor after a sex change that made her entirely female. Much like at the previous camp, she gleefully tortures and kills everyone upon whom she can get her hands.
Another rogue sequel, Sleepaway Camp IV: The Survivor, directed by Jim Markovic, was partially filmed but never completed. In 2002 the unfinished footage was released and made available as an exclusive fourth disc in Anchor Bay/Starz Entertainment's Sleepaway Camp DVD boxed set. Since then, Markovic has worked with webmaster John Klyza to finish the film properly.
A new film, Return to Sleepaway Camp, was completed in 2003 and initially struggled to find distribution. It was directed by Robert Hiltzik, the director of the original 1983 film. He decided that this chapter will ignore the story lines of the previous sequels, stating that he wanted to pick up from where the original film ended. According to Fangoria.com the digital effects were redone from 2006 to 2008. The film finally found distribution, and was released November 4, 2008, by Magnolia/Magnet Pictures. Review copies of the film had been sent out, and the movie's screener had already been leaked prior to the release.
The purportedly final film in Hiltzik's SC trilogy is also in the making. Its working title is Sleepaway Camp Reunion, distribution has already been arranged via Magnolia Pictures, for DVD with a limited theatrical release planned in 3D.
Michael Simpson, the director of Sleepaway Camp II: Unhappy Campers and Sleepaway Camp III: Teenage Wasteland recently wrote a script for his series of Sleepaway Camp movies as well, titled Sleepaway Camp: Berserk and is now in its 2nd draft.
Body Count
[
]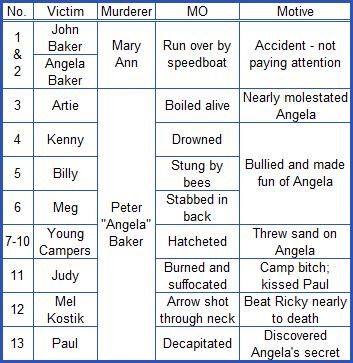 Trivia
[
]
Jane Krakowski (from Ally McBeal and 30 Rock) was almost cast to play Judy.
Young Peter Baker is played by Frank Sorrentino, who's younger brother is Jersey Shore's Mike "The Situation" Sorrentino.
As a child, writer/director Robert Hiltzik actually went to the camp which was used in the film.
In the opening scene when Ricky and Angela arrive at camp, the kids getting off the buses are mostly relatives of the cast and crew
Sleepaway Camp was shot in 5 weeks on a budget of only $350,000.
The film had been storyboarded BUT after the first day of filming, the movie was already behind schedule...so the storyboards were thrown out and not used.
When Sleepaway Camp opened, it was the top grossing film in New York, beating out the premiere of Barbara Streisand's Yentyl. It also KILLED it's horror competition by raking in almost double the gross of Amityville 3-D!
During filming of the scene where the canoe flips over in the lake, John Dunn cut the top of his hand open against a sharp rock on the lake's bottom. He had to be rushed to the hospital.
For the climactic final scene, a local college student had to shave his body and stand naked on the waterfront wearing a plaster mask of Angela's face (for the long shot). Apparently, the guy had to get pretty "plastered" himself in order to do the scene. *During the scene where the guys go skinny dipping, Loris Sallahian (Billy) walked off the set because he was not very pleased with the conditions. Director Robert Hiltzik had a personal chat with him and Loris returned to the set.
The infamous killer hands that are seen in the film actually belong to none other than "Ricky" himself, Jonathan Tiersten. It had been written into Felissa Rose's contract that she would not actually do any of the killings on screen due to her young age.
Jonathan Tiersten and Felissa Rose had somewhat of a puppy-love romance while filming.
When Leslie swims back to shore after the canoe flips, Leslie is actually played by Robert's Wife, Missy, in that scene. The original "Leslie" got mono and was sick for that segment of filming.
Willy Kuskin was being picked on just like his character, Mozart, by one of the Sleepaway Cast. At some point it got so bad that Frank Trent Saladino (who played Mozart's Counselor Gene) actually stepped in to protect Willy!
The Hudson Falls police let Allen Breton use one of their actual police uniforms for the movie. When Allen pulled out his gun to take a look at it (he had quite an interest in guns) he noticed that it was one of their actual guns and it was Loaded! Good thing the script didn't call for Frank to shoot anyone!
Writer/Director Robert Hiltzik wrote the beginning and ending of the SLEEPAWAY story first.
Ed Bilous, the film's composer, was discovered in a cafe/coffee shop while writing sheet music.
Robert Hiltzik originally wanted to cast a blonde actress as "Judy" the camp bitch.
Jonathan Tiersten got the role of Ricky after an interesting audition where Robert asked him to cuss him out.
Jonathan Tiersten's name was incorrectly spelled in the opening credits, spelling it Tierston. John Dunn however, correctly gained a middle inital on the video packaging.
While the family talks about Martha in the water, the shadow of a boom mike's rod is clearly seen on the overturned boat.
When the speedboat runs over John, the teens inside are dummies. Though one could say the real characters were dummies also.
When Eddie and the little kids go camping with their flashlights, the light reflection of the camera hits Eddie in the face.
When Angela is first seen at the end sitting and humming, in the distance on the other side of the bleachers look carefully to find someone removing his clothes. Chances are it's the boy who played "Naked Angela" at the end getting ready.
Listen to the lyrics of Angela's Theme over the end credits. You should notice how it relates to Angela, Paul, and The Secret.